At Lenleys Home, we offer premium quality, custom made blinds for almost any style, configuration or colour you could need.
Our highly trained staff, and fitters have decades of experience and are well practiced in providing first class service and workmanship to our customers. We're one of only a handful of stores within the UK to have a Luxaflex gallery in house, and we also have a great array of Silent Gliss blinds both on show, and available for order.
 Whether you're looking for roller blinds, wood venetians, touch controlled verticals or motorised silhouette shades we have it all and more. Best of all, our blinds come from Eco-conscious producers, they can help moderate room temperature and UV exposure, and they come with child and pet friendly options to eliminate dangerous hanging cords.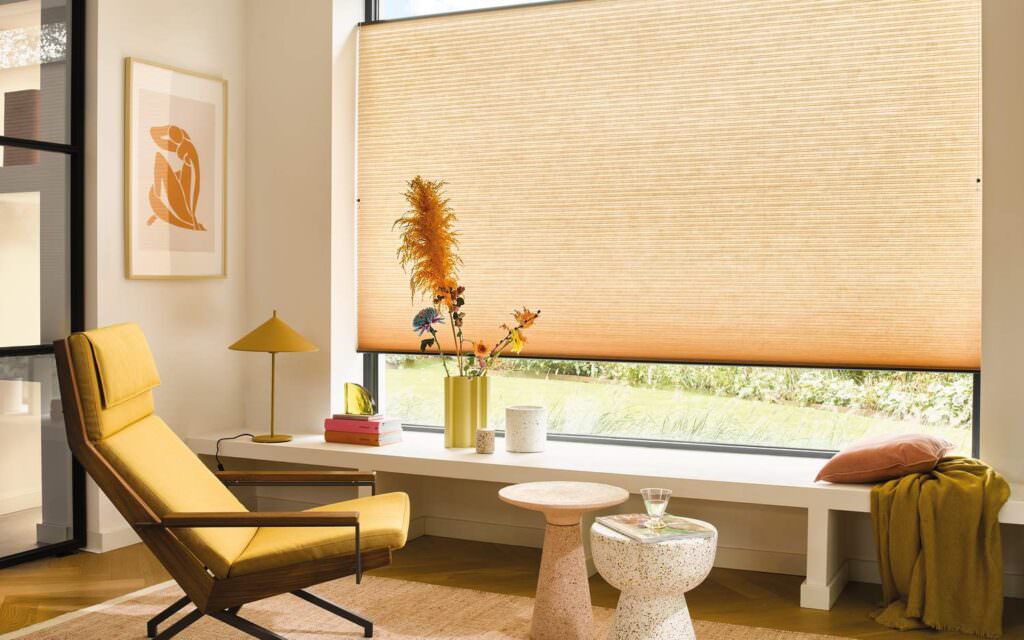 Find Your Perfect Blinds with Luxaflex
Luxaflex pioneered the world's first aluminium venetian blind back in the 1950's. Since then they've sold their hand crafted, made to measure blinds across the world. Luxaflex lead the blinds industry with their inspired designs, innovative technology and excellent safety features.
Plisse (or pleated) blinds are ideal for any standard shape windows, of any size. Choose from a vast array of fabrics, four transparencies and a selection of pleat widths and patterns.
Twist blinds use a two layer, patterned fabric design that allow you to choose from natural light, diffuse filtered light, or complete privacy.
A simple, elegant look, ideal for large windows, sliding doors or unusual/sloping windows. We offer a variety of vane widths and materials in different patterns and transparencies.
Silhouette shades are perfect for large windows, or homes with street level windows. They offer soft, filtered light when open, and full privacy when tilted to close.
Duette shades feature a dual layered fabric pocket design that can trap air and help regulate the temperature and external noise in your room all year round.
Roller blinds are ideal for adding some more colour or character to a room. We have a wide collection of beautiful designs and unique patterns for any room.
Luxaflex offer a variety of different options for operating your blinds. Please visit us the Interiors Style Studio at Lenleys Home Canterbury to see these features in action, and make an informed decision.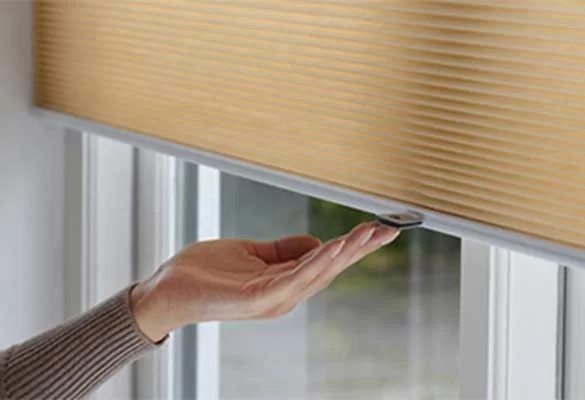 No cords, simply pull or push your blinds easily to the position you need them. The LiteRise offers a clutter free, beautifully simplistic design and is incredibly easy to use. This cordless option is ideal for parents or pet owners.
The SmartCord features a retractable cord mechanism, is easy to operate and maintains a constant height, so not to detract from the aesthetic of the blind. The SmartCord offers increased safety for children and pets.
Operate a single blind, or your entire home by the touch of a button, with this sleek wireless system. Choose from a pebble remote, wall mounted controls or simply use your phone or tablet to synchronise your lighting.
Lenleys Home provide the latest styles of high quality awnings from the prestige brand of Markilux that would suit a variety of tastes and homes.
Our estimators will be able to provide you with specific advice for your room, as well as taking you through options for curtains, blinds and awnings.
You can trust that our team will take care of your needs with unparalleled professionalism, from start to finish.
Visit the interiors style studio In our
Canterbury store
Our Interior Designers are waiting to help you create your dream home.
Our designers are here to help you with any questions you may have about wallpapers, window dressings, soft furnishings and the latest trends. If you are looking for something in particular or would like to talk about your fashion and style ideas, feel free to come in-store at any time that suits you, or contact us via email or phone.