A family business creating exceptional dining tables, chairs and cabinet furniture. 
Venjakob is based in Germany where they have been designing and producing high quality, award winning furniture from their state of the art factory since 1935.
Master crafters at Venjakob are expert carpenters with knowledge passed down through the generations. The evidence of this experience emanates from their finished products, natural wood grains that are exquisitely infused with other materials such as glass, metal, fabric, leather and lighting.   
Venjakob create designs that are not only stunning, but fulfil the practical requirements of every day life, with their powerfully robust demeanour, they offer excellent longevity. Demonstrating high standards in excellence, quality, service and innovation, the award winning team are always looking to supply the very best.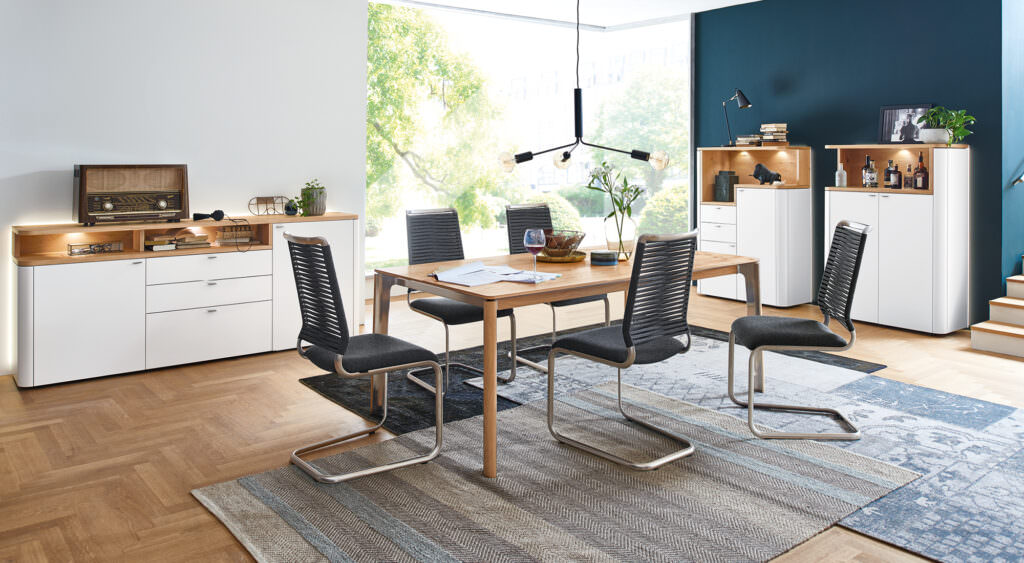 Albero brings the finesses of modern furniture design into the living and dining rooms. The horizontal fronts of the range are accompanied elegantly by vertical wooden elements – the base plinth is slightly inset under the carcass to create a floating illusion.
Andiamo Home connects highly diverse design highlights in the most charming way, with integrated shelf compartments and elegant angled open sections. There are five attractive wood colours to choose from, all of which combine beautifully with light or dark lacquer finishes.
The Plan X Program from Venjakob uses set heights and depths to create furniture ranges that fit your room perfectly.
Plan X2 elegantly combines striking rustic or oiled oaks with crystal white or slate grey lacquers to create highly tailored furniture setups with bold contrasts and heaps of character.
Venjakob dining tables and chairs for the highest demands. Materials such as wood, glass and metal are stylishly combined with each other according to taste, creating extendable dining tables that can be extended in an instant. 
When you discover furniture from Venjakob, what surprises most, other than the jaw dropping beauty, is just how vast the collection is, with tailoring options that will not only enhance the look, but also add a level of usefulness not normally associated with cabinet furniture.
Choose bespoke options from sizing, colour, lighting and material to provide a unique and high quality product that will suit you and your home for many years to come. 
Venjakob has an amazingly extensive range of furniture, from living to dining, with an abundance of customisations available.
Due to this, we only have a small selection of their items available to view here. If you are interested in furniture from Venjakob, we recommend coming into our Canterbury store where our consultants can help you with customisations, fabrics and finishes.
Discover venjakob In-Store