A fifth generation family bedmaker, handcrafting premium luxury since 1840.
Harrison Beds start an exceptional journey on their very own farm. A 300 acre space where a flock of Texel, Mule, Suffolk and Zwartbles sheep are reared.
Born and raised in Yorkshire, Harrison Spinks luxury mattresses are handcrafted using time-honoured techniques, representing the best in British manufacturing.
Skilled craftsmen and women work together using traditional bed making techniques after undergoing a thorough training program. Skills are passed from generation to generation resulting in beautiful beds that are of the highest quality.
Harrisons have a wonderful collection of beautiful soft fabrics which are widely available across their range of upholstered divan bases and headboards. Choose from a light grey to soften your bedroom to a bright blue to make a statement.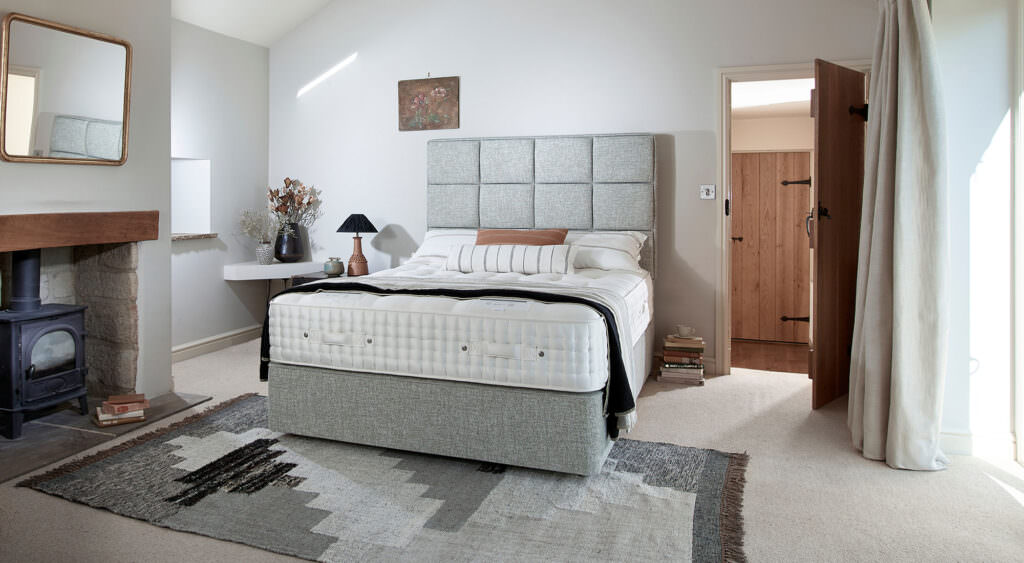 Popular From harrison spinks
evolving spring technology
Harrison beds form to your body shape quickly, ensuring a supportive excellent night sleep. This is achieved using thousands of springs in what Harrison call High Density pocket spring system. Utilising their awarding winning "Revolution" spring-within-a-spring units for unrivalled comfort.
These springs are made from titanium, which gives them the ability to adapt to weight variations quickly while retaining their shape throughout many years of everyday usage. The dual pocketed spring produces two levels of support tensions, as they are compressed the second shorter spring comes into play, giving better resistance to heavier areas of the body, as required.
In conjunction with the main springs there are also mini spring layers, these enhance mattress flexibility, producing incredible levels of extra comfort and support, delivering that much needed pressure relief by meeting your bodies contours. Leaving you well rested and fresh for the day ahead. Come and try them out for yourself in store!
Discover harrison spinks In-Store