Discover luxury, bespoke awnings from Markilux – The perfect addition to any outdoor space.
If you are looking to extend your living space, then look no further than a Markilux awning. These custom fitted awnings provide you with style and function. With a variety of awnings to suit your individual garden, grand or compact, our awnings provide shade, privacy and a touch of class allowing you to extend your living space outside into a place to relax and unwind.
Markilux is a family-run company that has been manufacturing awnings since 1972, representing innovation, quality and expertise. Their stylish awnings provide shade, privacy and a touch of class to your outdoor space, with multiple options such as LED spotlights, Infrared heaters and remote control, along with over 250 cover fabrics and patterns to choose from.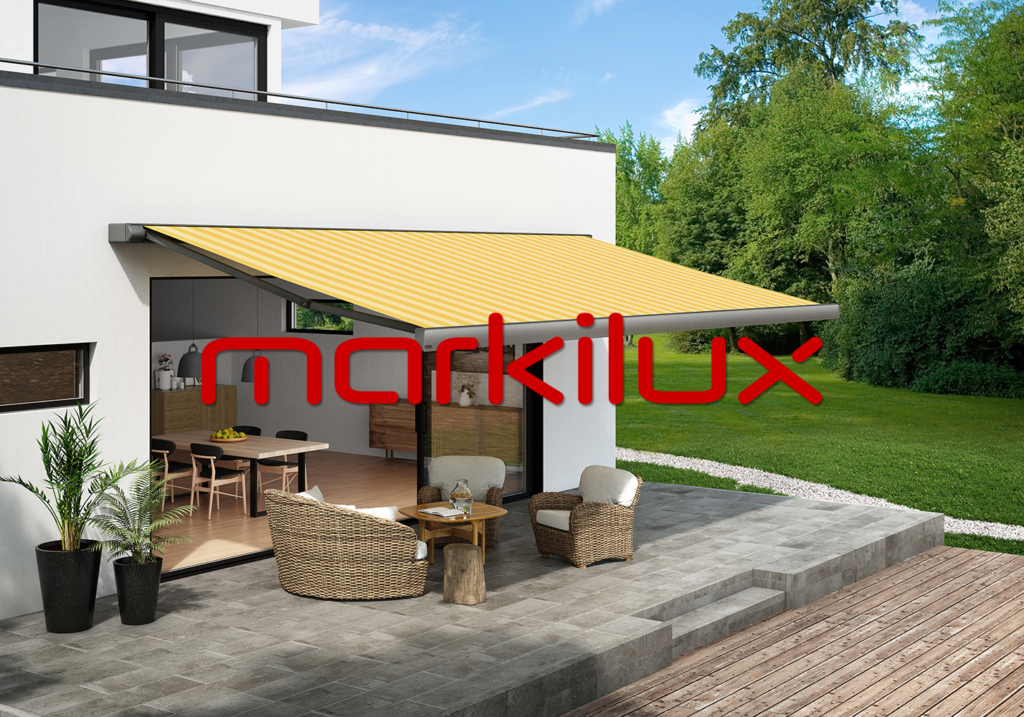 The Interiors style studio in canterbury has access to the entire markilux catalogue
We will work with you to find exactly what you need and customise your awnings perfectly for your home. All our fitters are trained specially by Markilux to ensure only the highest levels of workmanship, and to top it off there's a 5 year Guarantee on all Markilux products we fit. Take a look at the ranges below, this is just a snippet of our offering. If you'd like to speak to a member of staff regarding our Markilux offering please contact us.
This stylish and extremely sturdy awning can protect you from the sun and wet weather for large areas. This awning system rests on slender posts that can be adjusted in height allowing better water drainage and to compensate for any eventual differences in levels.
Whether you have a large or small balcony a Markilux awning can make this space into the perfect sanctuary for those relaxed morning breakfasts to the romantic evening dinners.
The Markilux 790 is a vertical screen and can protect you from low-lying sun, inquisitive glances and strong gusts of wind. The cover is optionally available with an angled top edge, giving you the option of visually adapting it to the pitch of a Markilux awning.
The 970 model has a slim cassette making this awning the perfect contemporary look to add to your home. The 970 also has the ability to extend horizontally before it tilts the awning into its pre-set pitch of between 5° and 30°.
These intelligent climate control awnings are ideal for a conservatory. They keep the heat in the winter and keep you cool in the summer along with offering protection. Turning your conservatory into a living room.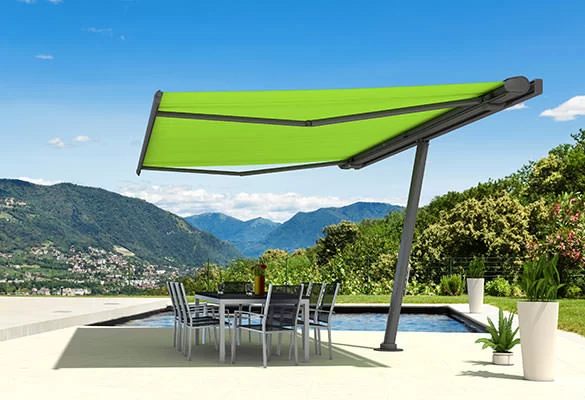 With its unique look the Planet awning is the ideal design feature for your favourite spot in the garden. In the flex version it can be turned by 335° so that shade is provided exactly where you would like it to be.
Offering a completely bespoke service, our expert consultants will advise on the best style & features suitable for your home and needs.
Although a Markilux awning can't guarantee you sunshine everyday, their range of awnings will certainly mean you can spend much longer in your garden with no need to worry about overcast skies or chilly evenings. Then when the sun does come out you can relax under your awning in the knowledge that you are protected.
With the company moto, "There is nothing that cannot be improved", Markilux illustrate their desire to remain a market leader in their sector. Through continual developments from small adjustments to brand new concepts you can rest assured that a Markilux awning will be the best you can get. They are continually recognised in the industry and have held many awards that identify their innovation and design skills.
Shadeplus allows you to block out the blinding rays of sunlight or prying eyes and enjoy the warmth of the day through into the evening. An additional awning cover drops from the front profile creating the perfect protection from the sun and a wonderful, private outdoor living area.
LED Spotlights create a striking atmosphere under your awning meaning you can entertain as late as you like. This low energy solution can provide up to 20,000 hours of light per unit.
Make evenings last longer with the pleasant warmth of the infra-red heater. The infra-red-heater is waterproof and housed in a sleek, powder coated alluminium casing. It can save up to 30% in energy compared with conventional, gas heaters, and comes with an optional remote control.
This sensor allows you to lean back and relax in the knowledge your markilux awning will react to any and every change in the weather. The automatic sensors extend the awning when the sun comes out and retract it when the wind is too strong. A rain sensor can be included as an optional extra.
A radio-controlled motor means your awning will react at the press of a button. Optional lights and extras can be added as additional functionality to your remote control.
This small and intelligent, battery powered box can control the awning depending on the wind. If the wind becomes too strong the vibrabox can make the radio-controlled motor-driven awning retract, protecting it from damage.
Lenleys Home provide the latest styles of high quality awnings from the prestige brand of Markilux that would suit a variety of tastes and homes.
Our estimators will be able to provide you with specific advice for your room, as well as taking you through options for curtains, blinds and awnings.
You can trust that our team will take care of your needs with unparalleled professionalism, from start to finish.

Visit the interiors style studio In our
Canterbury store
Our Interior Designers are waiting to help you create your dream home.
Our designers are here to help you with any questions you may have about wallpapers, window dressings, soft furnishings and the latest trends. If you are looking for something in particular or would like to talk about your fashion and style ideas, feel free to come in-store at any time that suits you, or contact us via email or phone.